March 20, 2018
The 6 best K-party food ideas
Haven't you heard? K-parties are all the rage now! There's no better opportunity to blast those K-pop hits and show off your dance moves.
While you're busy putting together your music playlist for your K-party, we've put together a list of seriously awesome Korean party food ideas. Whether you choose to cater or to cook, here's 6 fun and interactive food ideas for the biggest, baddest K-party of the year!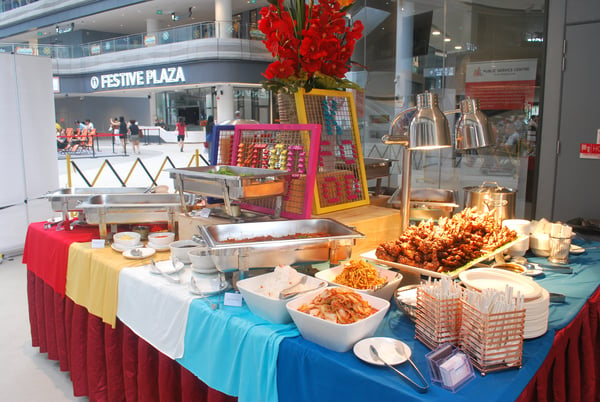 ---
1. BBQ with a K-twist
Say goodbye to boring old hotdogs, and say hello to thick, juicy pork belly slices marinated in Korean red pepper paste. We can hear them sizzling happily on your grill already!
The next time you book the barbecue pit, make it a K-party by ordering Korea's famous Samgyupsal or "8-flavour pork". Made famous by offering diners pork marinated in 8 types of marinade, a Samgyupsal Korean BBQ party is guaranteed to bring your guests back to the streets of Seoul.
To do this, buy some quality pork belly and marinate them in anything from miso paste to curry powder. Or if you'd like to relax, just book a party set of raw, pre-marinated pork or beef from our restaurant partners 8 Korean BBQ here. All tongs and disposables are included, so you'll only have to worry about the party decor!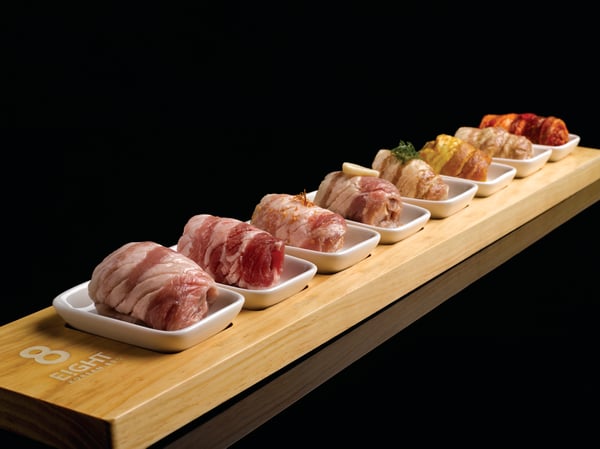 2. Shake it up, it's a DIY Bibimbap party!
Ask anyone what's Korea's most famous dish, and they're likely to say it's Bibimbap.
Full of veggies, Bibimbap is not only healthy and gluten-free, it's also really fun to put together. Treat your guests to some hands-on fun with a make-your-own Bibimbap buffet.
Order any Bibimbap buffet with our restaurant partner Dosirak, and your guests will get colourful tubs to fill with rice, condiments and that classic red sauce. Once they're done customising their Bibimbap, they get to shake, shake, shake it up!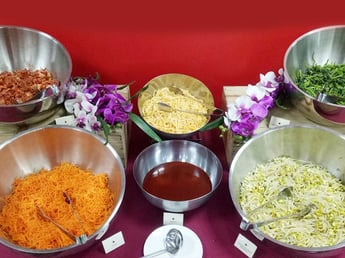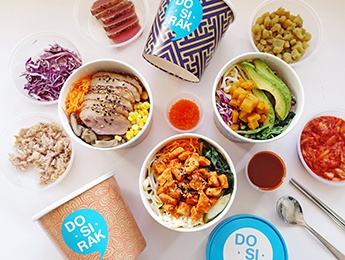 3. Have a steamboat, Korean style
Chinese New Year is over and everyone's tired of fishballs and crabstick in their steamboat. Make your next steamboat party a kickass K-party by doing a Budae Jjigae or Army Stew hotpot instead.
Army Stew is a legacy of the Korean war - food was extremely scarce, so the Koreans got creative and turned American army rations into a dish of their own. Army Stew combines chewy Korean instant ramen, vegetables, tofu and kimchi with the full on flavour of sausages, luncheon meat and baked beans.
If you're looking for a relaxed K-party for family and friends, grab your Army Stew supplies from the supermarket, or get our restaurant partner, Seoul Yummy, to put it together for you.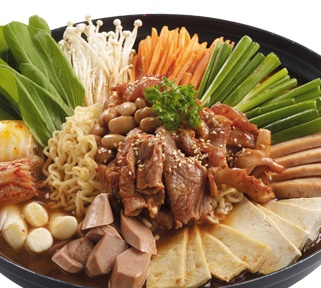 4. Korean 'ice kachang' station
Bingsu, the Korean ice kachang, is a crowd favourite, especially with the kids! Just like our local ice kachang, Bingsu is a shaved ice dessert served with a plethora of Korean toppings like red bean, mochi and local fruits.
To be the talk of the town, order a Bingsu live station which comes with a chef wielding an ice shaving machine. Did we mention that the station comes with an array of yummy toppings to choose from? Imagine kiwi slices, green tea ice cream, chopped nuts and a chocolate sauce to top it all off. Yum!
Get in touch with us if a Bingsu live station is up your K-party alley!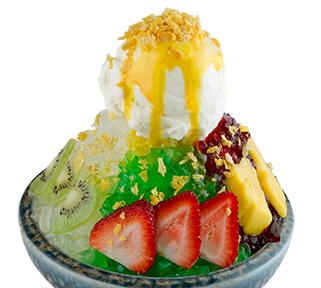 5. Mini Korean street food fair
If having little live station booths sounds like your type of event, how about your very own Korean street food fair?
Have 5 or 6 live stations, each one serving a Korean street food favourite. Your guests will walk own the street for ddeokbokki (spicy rice cakes), kimchijeon (kimchi pancakes), jajang myeon (Korean noodle with black bean sauce), Ganjang-chikin (sweet soy fried chicken) and Bingsu. Sounds perfect, doesn't it?
Get in touch with us if a Korean street food fair is your K-party dream.
Or if you're looking for something smaller that fits on your kitchen table, check out our Korean street food favourites party sets from Ajumma's Korean.

6. Beer & fried chicken party
Here's the perfect Friday night chill out party idea - beer, pickles and Korean fried chicken.
Now, if you've never done this because you're worried that the Korean fried chicken will go soggy, we have the perfect solution for you. Get in touch with us and request for your twice-fried chicken from Seoul Yummy to be separated from it's sauce. We'll even put your fried chicken under a heat lamp for that optimum crunch!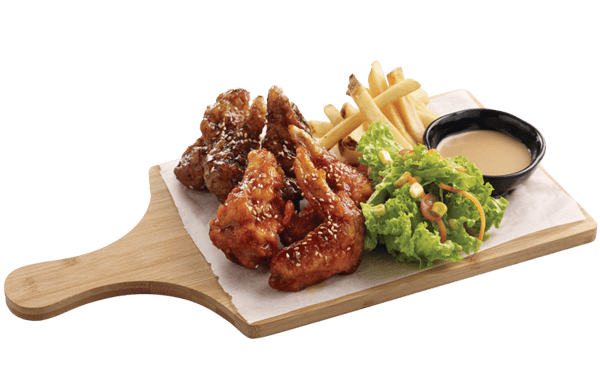 ---
Too many ideas to wrap your head around? Simply fill out our get a quote e-form and we'll whip up a K-party quotation for you within 1 working day.