December 21, 2017
Top 8 Catering Dishes To Order This Christmas
'Tis the season to eat, eat and eat!
If you're hosting a holiday dinner party, we bet you've got the usual roast turkey and Christmas ham in your menu. However, the classics can get boring fast, for both you and your guests — there's only so much turkey and ham one person can take.
This year, switch things up by going for familiar fare with a fun twist. Keep reading to discover the best, most unexpected dishes to cater this Christmas.
---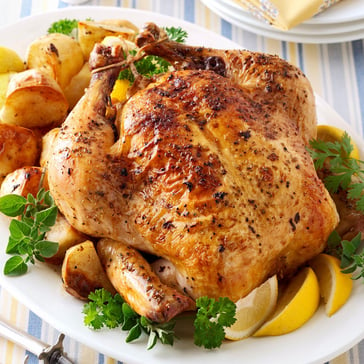 1. Vietnamese roasted whole chicken
Forget dry, overcooked roast turkey and go for the Christmas roasted chicken from Wrap & Roll. The contemporary Vietnamese restaurant is serving up a seriously juicy whole chicken for the festive season, roasted and dished out on a carving board for that rustic, holiday feel.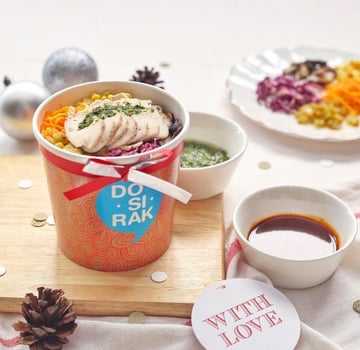 2. Korean turkey bibimbap
Want turkey for your Christmas party but don't want the trouble of having to carve up a huge roasted bird on the table? Try Dosirak's turkey bibimbap. Moist sous vide turkey slices are served with Korean pesto — a blend of spinach, pine nuts and fragrant sesame oil, finished with smoke — in Dosirak's signature bibimbap tubs.
3. Penang turkey pineapple fried rice
Combine a Christmas favourite with classic Asian home-cooked fare and you'll get Penang Culture's turkey pineapple fried rice. This homely dish will please the palates of guests both young and old and is a great option for those who aren't meat lovers but still want a taste of Christmas turkey.
4. Italian roasted prime Angus ribeye
Hosting a group of carnivores? Get Kucina Italian's Arrostita di Manzo, roasted prime Angus ribeye with pepper sauce. This hearty, meaty, authentic Italian roast made by Kucina's Italian chef will fill the stomachs and hearts of your guests.
5. Thai coconut ice cream
There's no better holiday dinner party dessert than one that brings back memories of an actual holiday — a vacation in Bangkok, to be exact.
While not the most obvious food choice for a typical Christmas party, Nara Thai's I-thim Nara or coconut ice cream will be a colourful and fun addition to any festive spread. Served with a selection of crunchy and chewy condiments, it's will also be great fun for both kids and adults to build their own coconut ice cream sundae.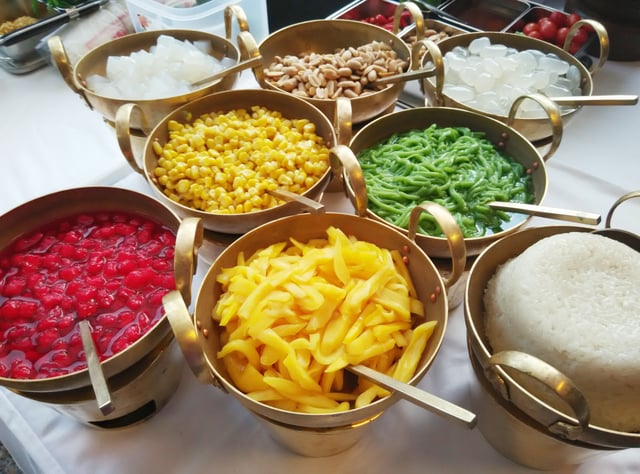 6. Indonesian salad
Let's be honest, salads are never the most popular pick at parties.
Make salads fun again by opting for Tambuah Mas' Indonesian Urap Urap. This steamed vegetable salad with a spicy shredded coconut dressing has a uniquely fresh, savoury and coconut-y flavour profile that will keep guests reaching for the greens.
7. Malaysian sambal prawns
Spice up your Christmas party — literally — with Hjh Maimunah's sambal prawns. For this traditional Malay dish by the hugely popular Nasi Padang restaurant, huge XL prawns are stir-fried in a piquant and sweet sambal sauce that will leave your guests sweating and wanting more.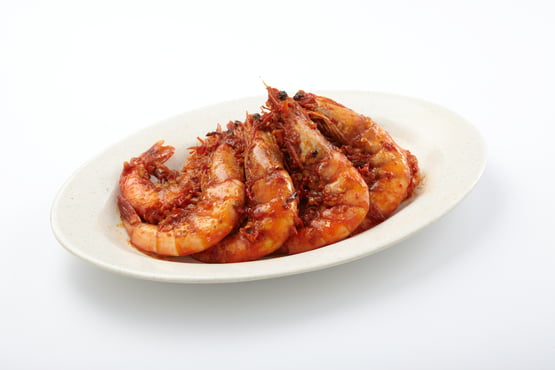 8. Vegetarian rainbow roll with mango basil sauce

If you've got vegetarian guests, order Wrap & Roll's rainbow vegetarian roll with mango basil sauce. This festive special is both appetisingly colourful and healthy, and will appeal to vegetarians and younger guests.
---
Want more uncommon Christmas catering options? Check out all of our Christmas catering menus
here or speak to the Catersmith team today!