March 08, 2018
The 6 Things You Should Know Before You Order Catering
Wouldn't it be nice... if we knew it all before buying something complex, like a laptop? Or if you knew exactly what to expect when hiring a wedding planner?
Unfortunately, life can be pretty complicated some times. Catering in Singapore can be tricky to understand for the uninitiated. If it's your first time handling the tricky task of ordering catered food, here's 6 things you ought to know before you start your buffet menu search.
---
1. Delivery fee is never included in the list price
Catering menus are almost always priced 'per pax' or per person. This fee usually excludes the delivery fee, which can range anywhere from $30-60.
This delivery fee represents the cost incurred by the caterer in transporting food and equipment to your venue and the trip made to clear the catering line. The more trips required, the higher the transport fee. For example, seminar menus usually have a higher delivery fee as the caterer returns to your venue for multiple meals in a single day.
So the next time you see that a menu fits your budget of say, $15 per guest, don't take it at face value! Always remember to ask about transport fees.
2. There's usually a 10% buffer
Most of Catersmith's customers come to us with a recurring question - how many pax should I order for?
While we wish there was a magical calculator that could give us the right answer, we can accurately say that there is a buffer of 10% provided in most cases. For example, if you've ordered Thai Fish Cake from Nara Thai Catering, around 2.2 pieces are provided per person.
Though ordering for 90% of your actual guest count sounds like a good idea, do remember to take into account the appetites of your guests. 70% of your guests are young, hungry boys? Better to order for the exact number, or even more! 80% of your guests are petite ladies? Consider going 10% under.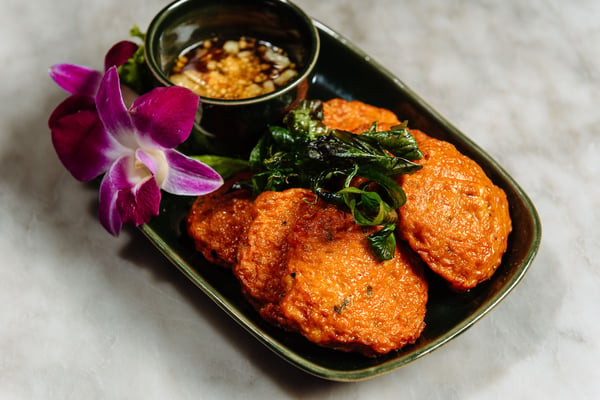 Order these delicious babies (Thai Fish Cake) and expect to get around 2.2 pieces per pax ordered.
3. It takes at least 3 days to process a buffet order
Remember, catering is not food delivery.
It can take up to 3 days to process a catering order versus just an hour for a food delivery order. Why?

Catering is logistics heavy. Every food item that you order has it's own specialised packing equipment and display apparatus. For example, your Penang Culture Catering Satay dish is transported in a metal tray. It arrives at your venue and gets transferred on to a porcelain serving plate, placed under a heatlamp, together with the satay sauce, onions and cucumber, each of which has it's own packing and serving equipment. Take that and multiply it by 10 dishes, add tables, decor and extension cords and you have yourself a logistical nightmare.
Order early and give your caterer a chance to ensure your buffet set-up goes smoothly!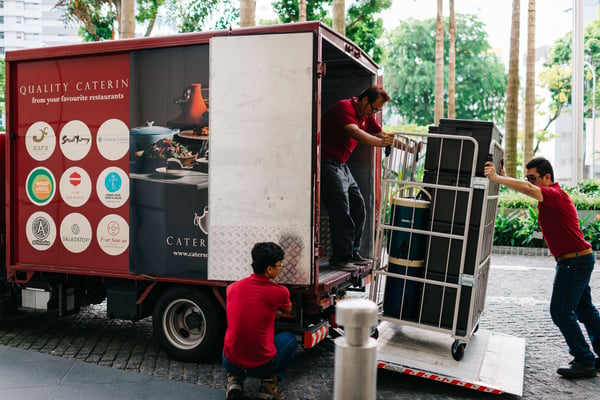 Depending on your order, the amount of equipment transported to your venue can be massive!
4. Making changes to your order may cost money
Now that you know why a catering buffet set-up is a logistical nightmare, you probably understand why making changes to a confirmed order may cost money.
Every change to a confirmed catering order has a ripple effect. A change from say, Satay to Otah, may mean that there's people physically repacking equipment for your order. Someone also needs to reprint your invoices and your food labels.
Most caterers may charge between $15-30 for changes made after order confirmation. Finalising things before making an order can save you from some unnecessary expenditure!
5. You can't keep the food for more than 3 hours
Did you know? When food is in the temperature danger zone of 5 - 60 degrees celcius, bacteria can double in quantity in as little as 20 minutes!
When your catered food is left on the buffet line for more than 3 hours, the solid fuel may burn out, and temperatures may fall below 60 degrees. This puts your leftover food at risk of becoming a hotbed for bacteria growth. This is why most caterers come back to collect your buffet line 3 hours after the set-up is completed.
If you're intending to have a long event, think twice about allowing guests who come late to consume food that's been left out. Consider ordering two rounds of 30 pax buffet lines for lunch and dinner, instead of having 60 pax of food delivered at lunch.
6. Tables and chairs need to be hired separately
Thinking of doing a sit-down buffet dinner to celebrate an anniversary? Try not to assume that those 10-seater tables and banquet chairs are a given.
Most caterers require a rental fee for the transportation and set-up of tables and chairs at your event. Some may even require an additional delivery fee if it is out-sourced to a company specialised in equipment rental. Also be prepared to fork out larger sums on tables and chairs that are covered in linens, since laundry costs are high.
The best way to get prepared for such events is to separate the budgets - one for food and beverage, another for equipment and other items like servers or non-disposable plates. Do mentally prepare yourself, for the equipment budget can sometimes exceed the food budget!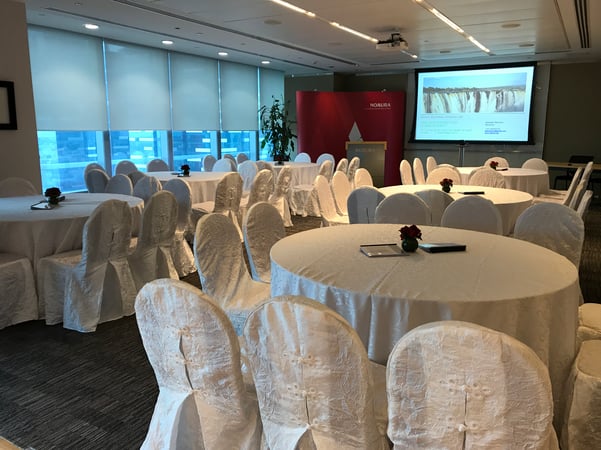 Adding linens to your banquet tables and chairs can make your event look smart. But it can also cost a lot!
---
Still confused and have no idea what mini buffet or full set-up buffet means? We help to demystify 10 commonly heard catering terms here.
Tired of reading and just want to speak to someone for help? Come on and drop us a call at 6266 2696 or email us at info@catersmith.com.sg. Always ready to help you put up a great show!