February 21, 2018
10 Catering Terms, Demystified
Full Set-up Buffet, Mini Buffet, minimum pax, there seems to be an awful lot of jargon when it comes to ordering catering doesn't it? And not to mention all the additional costs like delivery fee and GST.
We know that it can sometimes be confusing to find that perfect catering menu and get through the ordering process. To give you a hand, we've compiled a list of 8 most confounding catering terms and put them in the simplest terms.
---
1. Full Set-up Buffet or Buffet with Set-up
In layman terms:
Food warmers on a table with table cloth
Things you probably didn't know:
We usually need to set up your full set-up buffet near a power point as curries and soups are presented in pots that sit on electric cookers. We also like to place your deep-fried dishes under heat lamps for the optimum crunch!
It's also good to let us know if there are steps leading up to your buffet line venue as it really slows us down. We'll need to arrive earlier so that we have everything ready before your guests arrive.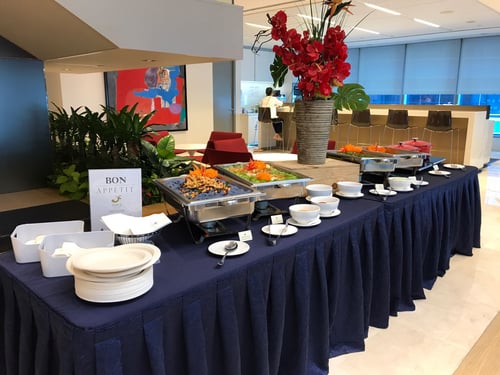 2. Mini Buffet or Drop-off Buffet
In layman terms:
Food in disposable trays. Ie, a very big dabao (takeaway)
Things you probably didn't know:
While this is a big dabao after all, what differentiates the mini buffet from a Deliveroo order is that we provide everything you need for your party. That's metal tongs, plastic serving spoons, disposable cutlery, plates, napkins, and even a printed menu! The best part is you get to keep them all.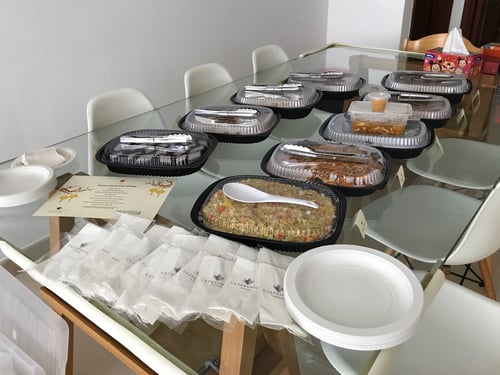 3. Per Pax Price
In layman terms:
This is like going to the movies - you have to buy a ticket for each person who comes.
Things you probably didn't know:
Most catering menus have this type of pricing so that you can flexibly add-on a couple of extra head counts up till a couple of days before your event. That's usually when your RSVP numbers become more certain.
4. Minimum Pax
In layman terms:
The minimum order
Things you probably didn't know:
It all boils down to simple math. Every caterer has a minimum order value. For Catersmith, it's $250 and $550 for mini buffets and full set-up buffets (before GST & delivery fee) respectively.
So if a mini buffet were to be priced at $20 per pax, the minimum pax would then be $250/20 = ~13 pax.
Hence, the lower the minimum pax, the higher the per pax price.
5. City Surcharge
In layman terms:
Going into town is expensive
Things you probably didn't know:
Everyone knows how many times their IU beeps when they drive into the city, or how exorbitant it is to park at Raffles Place. It's also an incredibly slow drive through the narrow city streets all through the day. That's why a $10 additional city surcharge is usually required for these congested areas.
6. Live Station
In layman terms:
A chef cooking for you at your venue. Think, Marché and it's little stalls.
Things you probably didn't know:
Adding a live station to your order usually entails two costs - a fee for the chef, which is usually charged based on a per hour basis, and a per pax fee for the food.
For example, Penang Culture Catering's famous Assam Laksa live station costs $150 for a chef to cook at your venue for 2 hours, and $6.60 per pax for the Assam Laksa itself.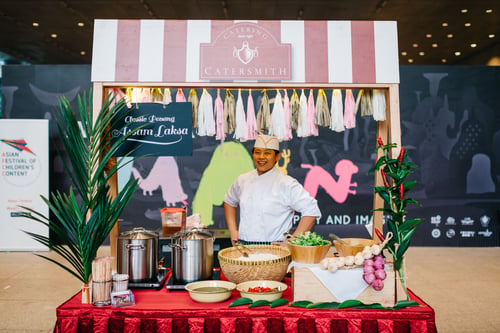 7. DIY Station
In layman terms:
Assemble your own dish. Hands-on, interactive fun for your guests!
Things you probably didn't know:
DIY stations usually consist of 6-8 elements which your guests need to put together. For example, at the Tambuah Mas Catering Mee Soto DIY Station, guests have to blanche their noodles, then add chicken, several condiments, and the soup to their bowl. This means that it might be a challenge for a very large group (say 300?) to do this smoothly and quickly.

For large events, you can consider simpler DIY stations like the Penang Culture Catering Rojak DIY Station - it's just a matter of tossing ingredients into a mixing bowl.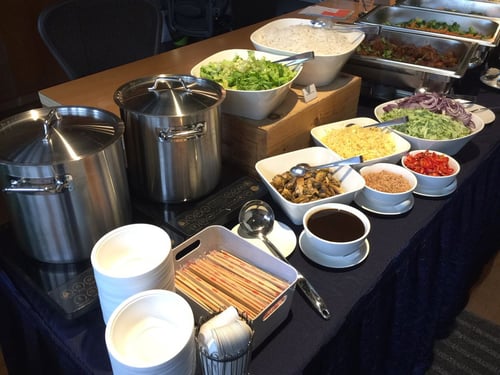 8. Canapé Catering or Cocktail Catering
In layman terms:
Bite-sized, pretty morsels of food that's passed around by a server.
Things you probably didn't know:
Due to the fragile nature of canapés, a plating chef is required on-site for all of Catersmith's canapé catering events. This ensures that every bite looks as good as it tastes!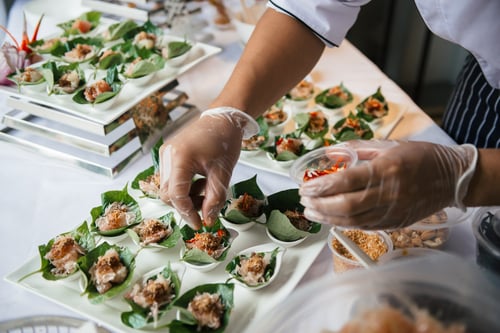 9. Wedding Catering
In layman terms:
Menus designed to serve 100 people or more at churches or alternative wedding venues.
Things you probably didn't know:
Lots of couples come to us thinking that we've marked up wedding menus. But the opposite is true!
As couples usually order for a hundred or more guests, our restaurant partners benefit from the economies of scale from preparing the same dishes for many people. Hence, we pass on the savings in the form of very affordably priced wedding catering menus.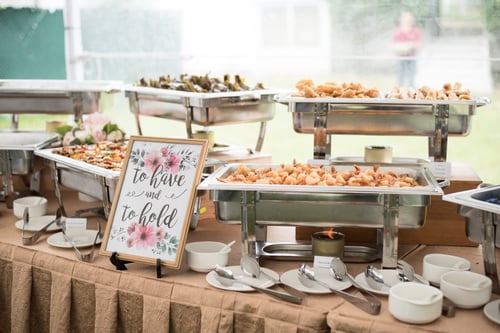 10. Restaurant Partners
In layman terms:
The restaurants that Catersmith work with
Things you probably didn't know:
Every dish you see on Catersmith's website is prepared by one of more than 20 restaurant partners. Catersmith's job is to help transport their food to your venue and set it up in the most beautiful buffet line possible.
Catersmith takes pride in working with reliable, award-winning and renowned restaurants. We hope that their excellence in cooking translates to a delicious and high quality buffet spread!
---
Need more help planning your Chinese New Year get-together? The Catersmith team is here to
help you have a huat New Year! For more catering tips and tricks, head here