October 11, 2017
10 Things You Didn't Know About Corporate Catering
There are many preconceptions and misconceptions about corporate catering, from the safest type of food to order to the policy on takeaways.
No matter if you've catered for a company event just once or have to arrange for team meals every other day, you will never know all that there is about catering for a company meal.
Until now, that is.
As industry insiders, we're privy to knowledge that might not be commonly known, and we're always happy to share!
So, keep reading for 10 things you didn't know about corporate catering, and what you should take into consideration before planning your next big team lunch or dinner.
---
1. People make poor estimations of how much they can eat at buffets
Many clients often wonder why ordering a buffet spread is more expensive than ordering bento boxes for the same number of people.
There's one simple reason why: People are bad at guessing how much they can eat.
For bento boxes, the amount of food allocated to each individual is controlled. When it comes to buffets, everyone usually piles on more food on their plate than they can finish, which means there will be a lot of wastage.
Therefore, caterers have to consider that wastage and set aside a buffer so that there will be sufficient food in spite of it, resulting in a higher price to feed the same number of people.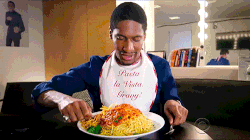 2. A high tea catering menu isn't what you think it is
The concept of high tea catering can be mind-boggling because the high tea we're used to involves enjoying a leisurely cup of coffee or tea with sandwiches, cakes or dim sum at a nice hotel.
High tea catering menus are a little different. Compared to more balanced and filling lunch or dinner menus, high tea menus don't usually feature a vegetable, seafood or meat course. Instead, they usually consist of appetisers, finger food, a light carbohydrate, drinks and dessert.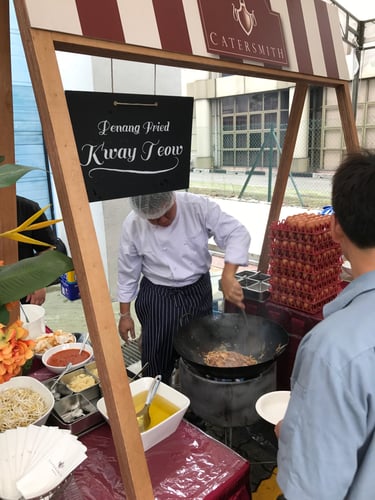 3. Not all live stations are appropriate for your venue
Live stations are a fun addition to any buffet spread as they add a touch of interactivity.
However, not all venues are suitable for a live food station.
For example, if your event is going to be held indoors, ask your office manager if there are any limitations on open fires and smoke.
If there are, live stations for char kway teow or grilled satay (that require open fires and generate smoke) would not be a wise choice because setting off the smoke alarm does not a great event make.
4. Getting half courses to make a whole is not a good idea
We often get requests where clients want a mix-and- match of flavours of a particular type of food.
For example, ordering 20-pax worth of lemon chicken and 20-pax worth of teriyaki chicken to feed a group of 40.
You'd think getting half-and- half of a particular type of food — be it meat, seafood or vegetables – would be a great way to please different palates, but the result is often contrary.
Everyone always wants to try everything, so what usually happens is the first 20 people on that buffet line would get both lemon and teriyaki chicken, and the last 20 gets nothing.
We're not saying getting mixing it up is never good but this works best with carbohydrates like rice and noodles. People tend to not overload their plates with carbs, leaving enough for everybody.
5. You can't takeaway leftovers
That's right, you can't takeaway leftovers from a corporate catering meal. According to the National Environment Agency's (NEA) guidelines, all catered food has to be finished within three hours after set-up is done.
So, instead of filling up Tupperware containers, grab colleagues from other teams and departments to dig into the buffet once all your main guests are done!
6. That's why takeaway boxes are not usually provided
As we mentioned, takeaways are not allowed, and therefore, caterers no longer provide takeaway boxes.
Caterers can't take responsibility for anything consumed outside of the three-hour window (and what the food might do to your digestive system) so they can't encourage you to do so.
7. Your food is not supposed to be heated up on the buffet line
One common misconception is that food for a buffet spread is heated up at the venue itself.
The truth is, your food is supposed to arrive piping hot and kept warm with burners throughout your event on the buffet line, not heated up on-site.
If your food is delivered lukewarm or worse, cold, it means it is below the minimum food safety temperature of 60°C and is subject to nasty bacteria growth – something that's never welcome on a buffet line.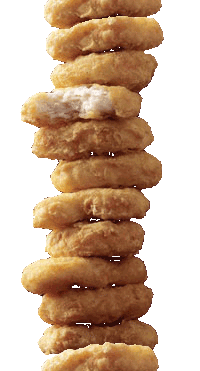 8. 'Golden' is an euphemism for 'deep-fried'
We often see 'golden' food on catering menus — for example, golden prawns or golden nuggets.
Dining on golden food sounds fancy, but it simply translates to processed food, deep-fried en masse.
And unless you'd like your guests to tuck into little pockets of oil, 'golden' food is probably something you want to avoid.
9. Deep-fried food will never arrive crispy
On the topic of deep-fried food, one other thing to know is that there's no way deep-fried dishes will ever get to you perfectly crisp.
We know no one likes soggy fried food but you can blame science for this. Heat from the food, when enclosed within the containers, turns water vapour into condensation, and this moisture often turns crispy, crunchy fried treats into soggy, mushy messes.
10. The best dishes are saucy dishes
If you want a fail-safe corporate catering experience, your best bet is to opt for soups, curries or any dish with gravy.
These saucy dishes are great because they don't breakdown or dry up over the time it takes to transport the food to your venue and set-up the buffet, and hold up well to constant heating on the buffet line.
---
Want to learn more about the ins and outs of corporate catering?
Check out the 7 Things No One Tells You About Catering For A Company Lunch or find 8 Ways To Make Feeding A Big Team Simple But Delicious
Alternatively, just give the Catersmith team a call, we're always here to help!