April 05, 2018
Top 10 Party Food Ideas From Around The World
Last month, we shared some amazing Korean-themed party food ideas; now, let us take your tastebuds on a trip with the best party bites from around the world!
From DIY Vietnamese Banh Mi to succulent satay grilled just for you and your guests, these global food ideas will take your party to the next level. Keep reading to find out what you should be putting on your table for your next get-together!
---
1. Vietnam - Build Your Own Bahn Mi
Let your guests get their hands dirty with a build-a-Bahn Mi station where they can put their own spin on the traditional Vietnamese sandwich.
Serve up toasty baguette loaves with a variety of yummy fillings, from grilled eggplant and shredded carrots to pâté and pork slices — a great way to cater to guests with different tastes and dietary needs.
You could prep the fillings yourself, or have our partners Wrap & Roll Catering do it for you, so you won't have to lift a single finger.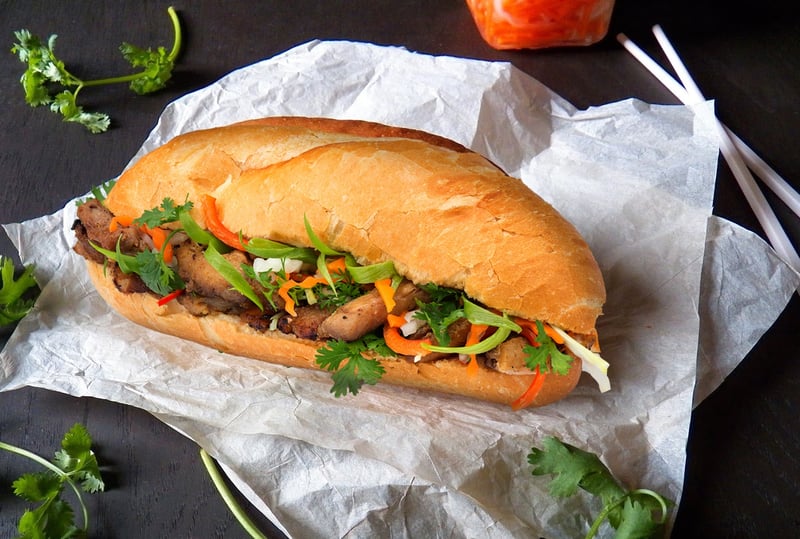 2. Middle East - Mezze Platters
Gather your best friends for a cozy night in with a Mezze platter, traditionally served as a starter in Turkey, Greece, Lebanon and other Middle Eastern countries.
Share gossip and life updates over a plate full of a myriad of dips like hummus, beetroot tzatziki, eggplant babaganoush, labneh, and pita bread and corn chips on the side.
Sounds like the perfect meal for a group Netflix binge session, doesn't it? Make your own or order up Artichoke's Middle Eastern Mezze Mini Buffet.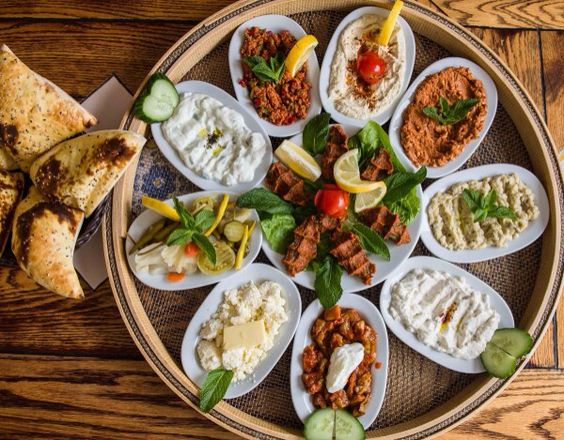 Photo credits: Ipinimg.com
3. Italy - An Italian Dessert Table
Live la dolce vita, or the sweet life, with an Italian dessert table for your party.
There are plenty of popular Italian sweet treats, but there's nothing quite like rustic Sicilian cannoli.
Our partner Kucina Italian makes a mean rendition, with crispy, freshly-made pastry rolls stuffed with pistachio, mascarpone, ricotta cheese, honey and chocolate chips. Yum!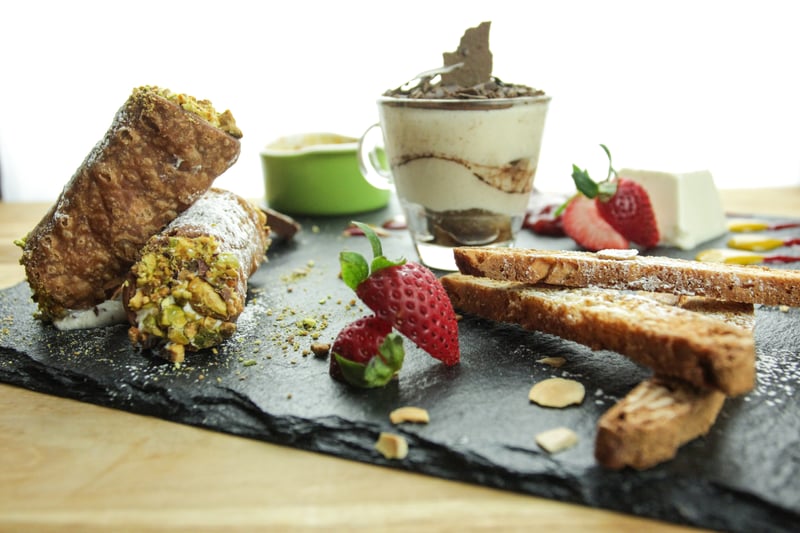 Holy Cannoli, you've got to get these sweets on your party table!
4. Indonesia - Your Personal Satay Man
Barbecues are a lot of fun — unless you're the designated cook and have to spend hours toiling over the fire trying to get everything to cook properly.
Sit back, relax and spend your time with your friends (instead of the grill) at your next BBQ gathering with a satay station helmed by a chef from our Indonesian restaurant partner Tambuah Mas.
Enjoy all the joy of cooking and eating outdoors without breaking a sweat as the chef expertly grills and serves up smoking-hot satay skewers for you. Then, complete the Indonesian street food experience with DIY soto lontong — piping hot chicken broth with beansprouts and lontong rice.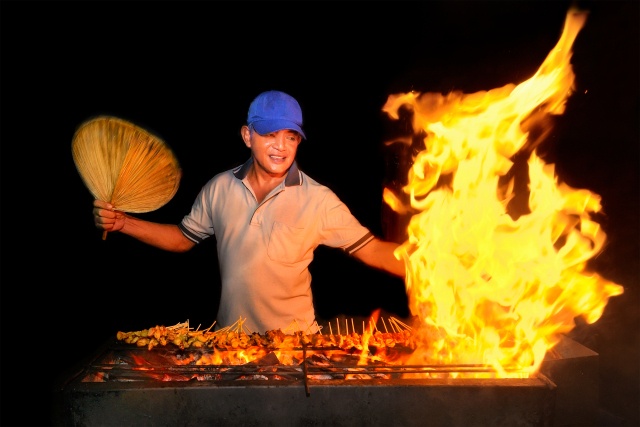 Keep the fire out of your face! Have Mr Satay Uncle cook it up for you. Photo credits: Our Shutter Journey Singapore
5. Singapore - Chicken Rice Party
If you're hosting guests from out of town, chances are you're going to have them try Singapore's iconic Hainanese chicken rice at some point during their stay.
Instead of heading to a coffee shop, bring the hawker fave to your home with a chicken rice party.
With our catering partner Jew Kit, one of the most beloved chicken rice stalls, you can have the chicken rice uncle join your party, and chop up whole steamed or roasted chicken and serve it with fragrant rice right in front of you.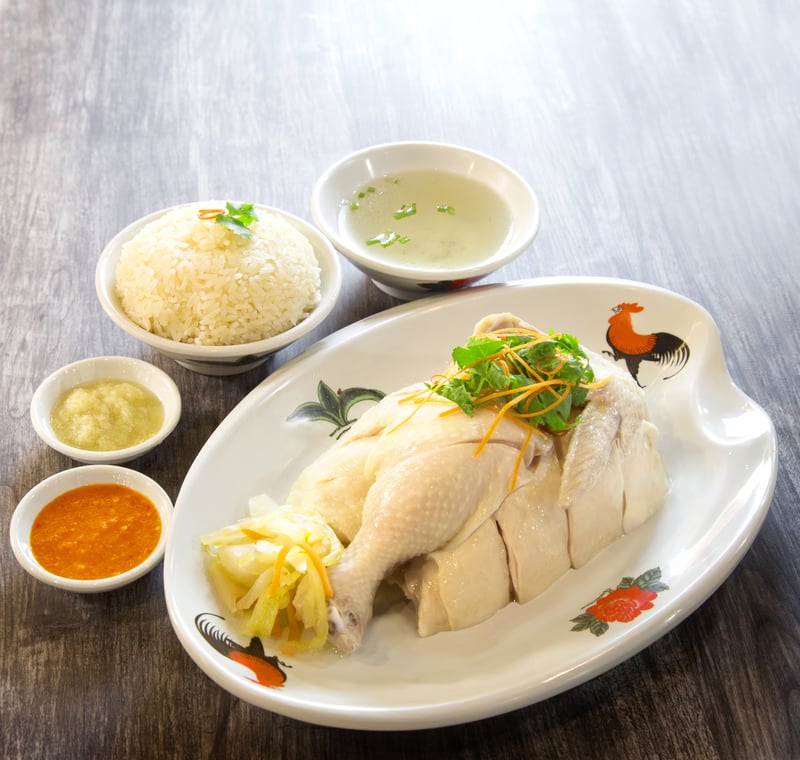 6. Japan - Sushi Cake
Love sushi and love cake?
Bring the two together for your next birthday smash with sushi cake.
Impress with your own sushi cake with layers of fluffy vinegared rice, fresh slices of fish and seafood, nori, tamagoyaki, tobiko and other toppings of your choice.
It is not just unconventional, sushi cake ticks all the boxes for the perfect party food — both kids and adults who don't have a sweet tooth will love it and it's Instagrammable enough to feed your social media feed with.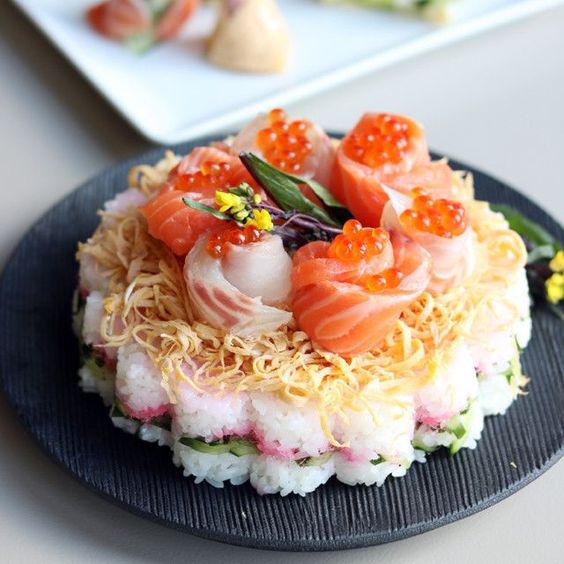 Photo credits: Marcaro-ni.jp
7. USA - Sticky Ribs
The best part of small, intimate gatherings with those closest to you is being free to get down and dirty with your food.
So, for your next get-together with your best buds, get yourself a comforting, meaty pile of sticky ribs.
Our favourite is the good ol' American ribs served up by Singapore's own hardcore biker bar Handlebar, coming soon to Catersmith!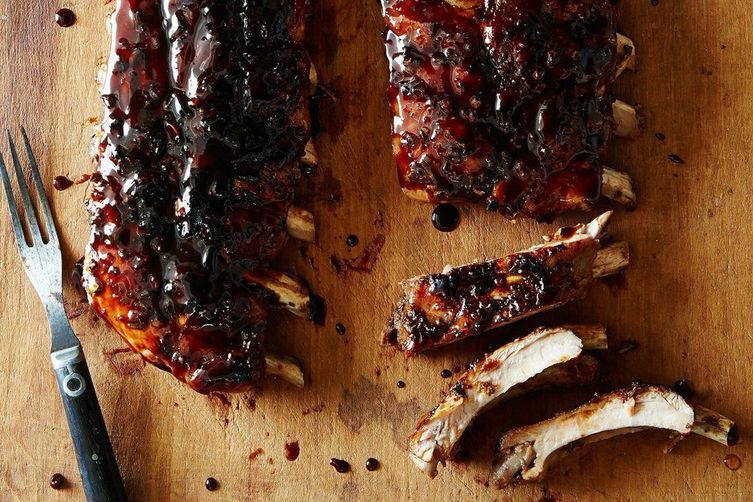 Sticky ribs make for a finger licking good party. Photo credits: Food 52
8. Thailand - P-I-Y (Pound It Yourself) Papaya Salad
Is your team going through a particularly stressful period at work? Give them a chance to destress with a pounding — a Som Tum pounding, to be exact.
Let everyone have a go at making their own Som Tum (Thai papaya salad) for lunch, with slivers of crunchy Thai green papaya, peanuts, long beans and tomatoes pounded with spicy, sour and savoury herbs and sauces.
Get the ingredients you need at a Thai supermarket, or take the stress out of prepping and have our restaurant partner Nara Thai set everything up for you. All you and your team have to do is take a deep breath and pound away.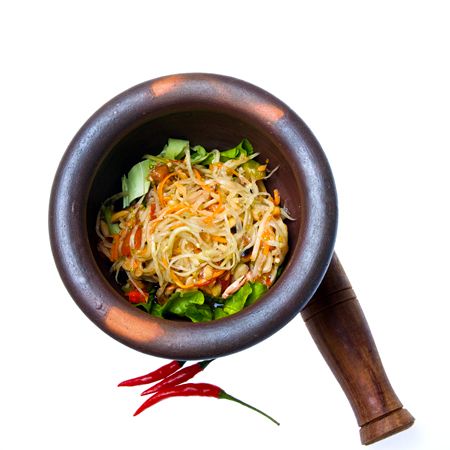 Pound away your stress while making yourself a great meal. Photo credits: Temple of Thai
9. Mexico - Personalised Taco Bowl
Who said healthy office party food has to be boring and tasteless?
Tantalise your team's tastebuds with Mexican taco bowls that each member can build themselves according to their own preference. Lay out plenty of wholesome fillings like fresh vegetables, beans, grilled meats and rice, and fiery hot salsas to tie it all together. No one will be able to stop at just one bowl.
Get this Mexican party started with Mexout, coming soon on Catersmith!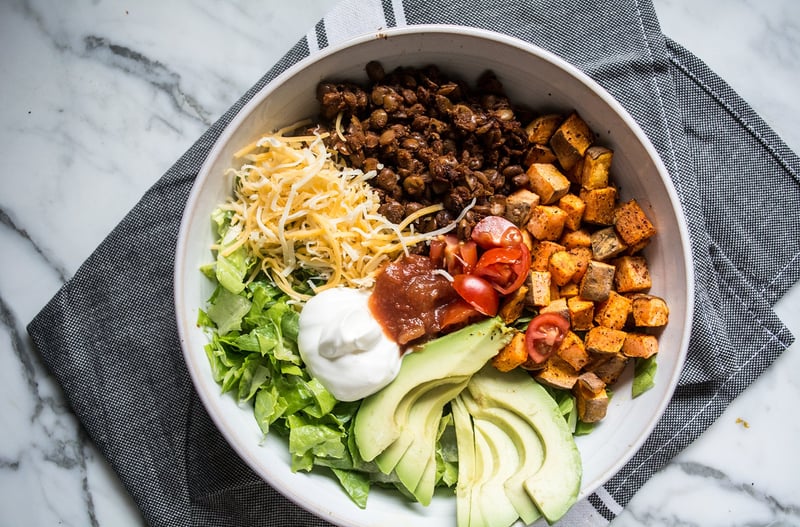 Healthy and filling - taco bowls definitely hit the healthy spot! Photo credits: Lemons & Basil
10. China - Szechuan Crispy Duck
A much beloved cousin of the Peking Duck, the spiced Szechuan Crispy Duck also makes for a party dish that's both interactive and classy.
Get yourself a whole roasted Szechuan Crispy Duck and set up a carving station where your guests can slice up the crispy skin, and wrap them up in small pancakes with as much spring onion, cucumber and sauce as they want.
These little bites are dainty enough to serve at a more formal get-together and hearty enough to keep bellies full. Get your whole ducks at Red House Seafood.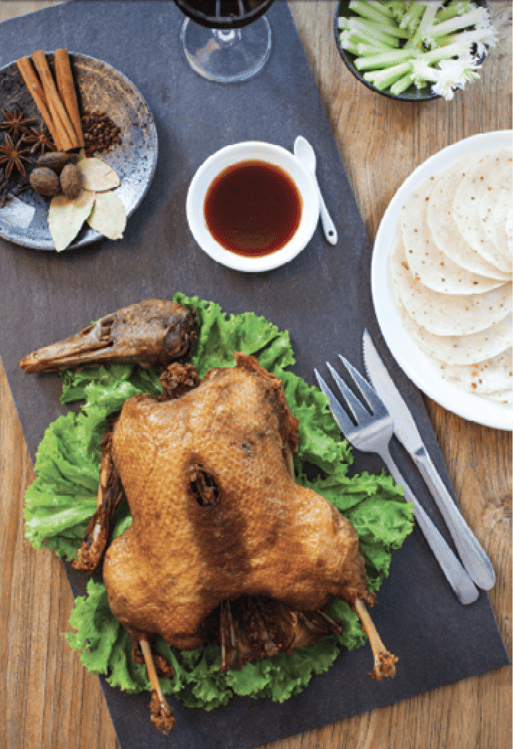 Photo Credits: Red House Seafood
---
Want more ideas? Call us at 6266 2696, or click on the button below to get a quote now.
We're always here to help you put together the best party ever.