August 18, 2017
Catersmith Taste Tests Tambuah Mas' New Catering Menu
Here's unveiling the latest addition to Catersmith's great group of restaurant partners - Tambuah Mas, one of Singapore's oldest Indonesian restaurants. Feeding Singaporeans food prepared with handmade love since 35 years ago, Tambuah Mas Catering now brings authentic Indonesian favourites to the buffet line.
We've had the pleasure of taste testing their menu with Youling, the restaurant's 2nd generation owner, to bring you some sneak peeks!
As the dishes arrive, Youling shares that the family recipes that have been handed down to her use traditional Indonesian culinary methods, a lot of which require making sauces and condiments from scratch. A great example is how Tambuah Mas still hand-squeezes the coconut milk from desiccated coconut – that's a lot of work!
Tambuah Mas' dedication to the Indonesian culinary craft certainly comes through in their dishes. Here is a list of our catering favourites which you ought to order:
---
1.

Tahu Telor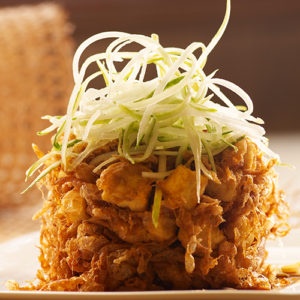 We start our meal with Tahu Telor, one of Tambuah Mas' signature dishes.
The tower of fried beancurd and egg is topped with a generous amount of julienned cucumber, then doused in a sticky, sweet and spicy dark sauce. To achieve that glorious tower shape, a special circular mould is used to hold the beancurd cubes and eggs together in the deep-fryer. Fresh out of the kitchen, the Tahu Telor is perfectly crisp and be warned – it is really addictive too.
Afraid that the Tahu Telor will be dry and cold by the time it lands on your buffet line? Catersmith ensures that the dish is kept warm and moist with the use of special thermal boxes. The delivery team also tops the beancurd tower with cucumber slices only during the set up, so that you can enjoy the contrast of cool cucumber strips against the warm crispy tofu.
Quick tip – this is a great dish that will please both vegetarian and non-vegetarian guests!
2. Rendang Lembu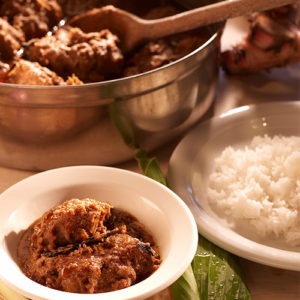 Tambuah Mas' beef rendang is, hands down, the best I've ever tasted in Singapore.
If you're preparing for a team meal, and you have colleagues who like their food gao, with a full and robust flavour, this is the dish for you. The rendang gravy is thick, kudos to Tambuah Mas' chefs who grind the paste from scratch from garlic, onion and an assortment of spices.
The beef cubes are so tender that the fibers fall apart at the touch of the fork. Youling explains that this is thanks to at least 4 hours of simmering.
For a hearty team lunch, or a fancy corporate dinner, this is the dish you should order to impress.
Quick tip – Request for a change of protein if your guests are unable to take beef.
3. Ikan Acar
I am a fan of anything pickled, so this dish is right up my alley.
First, the fish fillets are perfectly fried, leaving the delicate meat within tender and moist with a crisp skin.
Now, let's talk about the acar. One pet peeve I have about acar is when the vegetables are limp and soft. If you feel the same way, I am glad to report that the cucumbers, carrots and cabbage here retain a pleasant crunch.
We've voted to highlight this dish because it's a great twist on the regular sweet and sour fish you get on a buffet menu. If you're looking for something with a safe flavor profile, but is out of the ordinary, you can consider ikan acar.
Quick tip – If you have guests who don't fancy acar, simply make a request to have the sauce served on the side.
4. Sayur Lodeh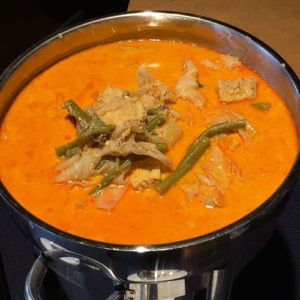 A common sight at our local Nasi Padang stalls, Singaporeans should be familiar with Sayur Lodeh. For the uninitiated, Sayur Lodeh is a Javanese curry dish consisting of vegetables such as cabbage, long beans and carrots.
I've recently experienced many eateries undercooking their Sayur Lodeh, and it annoys me when these vegetables still crunch in my mouth. But Tambuah Mas definitely doesn't cut any corners with their Sayur Lodeh. The vegetables are tender and sweet from hours of cooking. It's a great choice when catering for older guests who prefer dishes that are easier on their gums.
Quick tip – This dish is pretty mild, but if you love your spice, request for some!
5. Es Cendol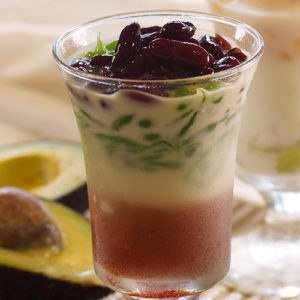 Move aside, Chendol Mcflurry – because nothing beats the real deal from Tambuah Mas.
The first thing I notice about the cendol jelly is that it is different from the stringy, salty ones we get elsewhere. The jelly here is hand-made by pushing jelly batter through a cendol sieve. The result is a plump and chewy jelly that leaves a clean after taste. In my books, this is also a lot of work for an under appreciated component in a great dessert!
If that's not enough, the restaurant also cooks the gula melaka syrup from scratch. This is exactly how cendol tasted 35 years ago, and now, you can taste that piece of history on your buffet line.
Quick tip – For the best experience, choose to have the cendol served as a live station with a chef. He'll shave the ice and whip up the dessert just like in the old days.
6. Es Blewa Atap
There are two desserts on our favourites list because it's not fair to make us choose just one.
Served cold, Blewa Atap is a dessert made from a combination of rock melon slices and whole attap seeds in sweet syrup.
Youling points out that the sweet syrup is an original recipe – the syrup is cooked with pandan leaves for just a hint of the aroma. Unlike desserts made with factory-produced sugar syrups, the Blewa Atap is light on the palate and very refreshing. A perfect way to end a sinful yet satisfying meal!
Quick tip – if you're torn between the healthy fruit platter or the sinful cendol, this is a good middle ground.
---
These 6 dishes are just some of our favourites from Tambuah Mas. Other delicious signature dishes including their signature Indonesian BBQ satay, seabass fillet wrapped in banana leaf and deep-fried soft shell crab with chili crab dip await!
Ready to have an Indonesian spread at the next event? You can order here, give us a call,or drop us an email.