January 21, 2019
7 small group catering ideas for your CNY 2019 reunion dinner
We're less than a month away from Chinese New Year! And of course, one of the most important highlights is the reunion dinner with our loved ones and close friends. Sure, you can never go wrong with the standard steamboat affair. However, if you're looking to take it up a notch this year by exploring an alternative cuisine, catering is the perfect solution.
Here are 7 small group catering ideas that would save you from slogging over the stove and also, kick off your Chinese New Year feasting with a bang!

---
1. Prosperity Bundle Party Set - PastaMania
Price: $23.80 per pax

Min. order: 10 pax

No. of courses: 6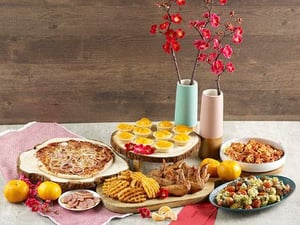 If you're expecting a large group of tots at your party and are worried about what the kids will eat, consider catering a set of Italian-fusion dishes from PastaMania's Chinese New Year menu.

The pint-sized set is hearty enough for 10 pax (15 kids or so), and features a variety of pasta and finger food that the little ones will be happy to eat! Still need something to satisfy the more traditional, older folks in the family? Well, let's just say that the pasta can be the western equivalent of the Chinese longevity noodles.

2. Chinese New Year Cajun Seafood Buckets & Platters - Cajun On Wheels (C.O.W) Catering
Price: $33.90 per pax

Min. order: 10 pax

No. of courses: 6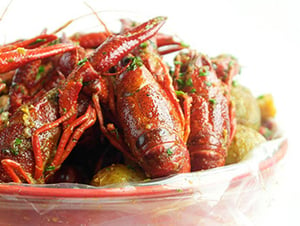 Reunion dinners feel incomplete without seafood and its auspicious symbolism. For a change, bring "harmony" (crabs) and "laughter" (prawns) to the table with Cajun seafood buckets!

Yes, things will get rough and dirty. But it will all be worth it when your guests dig into other Cajun favourites such as crawfish, clams and mussels. Plus, to top it off, these dishes come with local-flavour inspired sauces like salted egg and chili crab.
.
3. Chinese New Year Popiah Party Party Set - Fortune Food Catering
Price: $19.90 per pax

Min. order: 15 pax

No. of courses: 5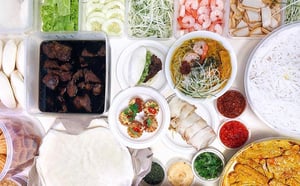 If food is the best way to bond, then Fortune Food's exclusive Chinese New Year DIY mini buffet menu will glue your family together. It consists of 5 different DIY local snack packs: popiah, kueh pie ti, muah chee, kou-rou baos and the restaurant's star dish – laksa.

Dose of nostalgia aside, there is an additional element of DIY fun with the family - even if that means being the one who rolled up the "ugliest" popiah at the table.
4. Indonesian Chinese New Year Mini Buffet - Tambuah Mas Catering
Price: $28.90 per pax

Min. order: 15 pax

No. of courses: 8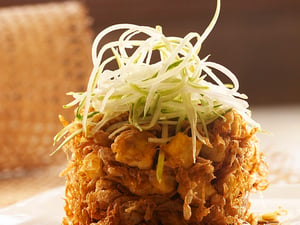 Add a (spicy) kick to your reunion dinner with classic Indonesian dishes such as Tahu Telor, Beef rendang and Chicken satay. The refined flavours of Tambuah Mas' classics promise to satisfy even the most discerning palette among your guests.

After the mains, choose to end your dinner on a sweet note with Tambus Mas' cendol! The dessert consists of gula melaka made from scratch and plump, chewy cendol jelly which is hand-made in the kitchen every morning. It is guaranteed to receive smiles all around.

5. Thai Chinese New Year Mini Buffet - Nara Thai
Price: $28.80 per pax

Min. order: 15 pax

No. of courses: 7 courses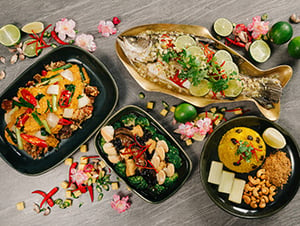 Of course, you can also go for the well-loved Thai cuisine to add some spice to your reunion dinner catering! As an established brand in Thailand, you can expect to feast on authentically Thai dishes such as Thai fish cakes and stir-fried chicken with chili and hot basil.

If Nara Thai's Chinese New Year catering menu is your choice, we feel there's a need to remind you to prepare your cameras - because their signature Thai Herbs Blue Fried Rice is something you would want to boast about on your Facebook / Instagram!

6. Penang Culture Chinese New Year Mini Buffet - Penang Culture
Price: $25.80 per pax

Min. order: 15 pax

No. of courses: 8

courses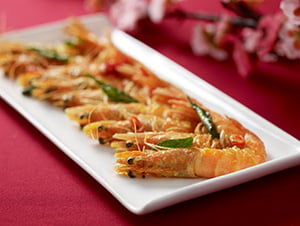 If you don't want to veer away too much from the usual fare, this traditional Asian menu from Penang Culture is your answer.

From regular crowd-favourites Lor Bak (chicken rolls) and belachan fried rice, to dishes with a twist such as the restaurant's Mango Chicken and Breaded Prawns, this Chinese New Year menu is a safe option that will delight the young and old in your family.

7. Char Chinese New Year Catering Menu B - Char Restaurants Catering
Price: $38.80 per pax

Min. order: 10 pax

No. of courses: 8

courses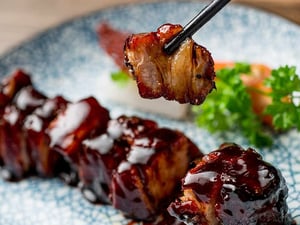 Are you that person who's always responsible for bringing the roast meats to reunion meals? This year, step up your 'roast meat game' by ordering from Char's Chinese New Year menu.

Take your pick from their signature char siew, sio bak (roast pork belly), or roast duck! The roast meats are made in-house with a mix of Asian and Western techniques, which results in a 'melt-in-the-mouth' moment you or your guests won't forget upon taking a bite.
---
Want more recommendations on the Chinese New Year menus? Call us at 6266 2696, or get a quote by hitting the button below!