January 03, 2018
2018 Well-Wishes From The Catersmith Team
2017 has been nothing short of amazing. We've had the privilege to bring great food to great people and set up some incredibly interesting events.
As we say goodbye to 2017 and welcome 2018, we'd like to introduce the Catersmith team — many of whom you've probably worked with for your corporate lunches or events — and share their well-wishes for you and your team for the New Year.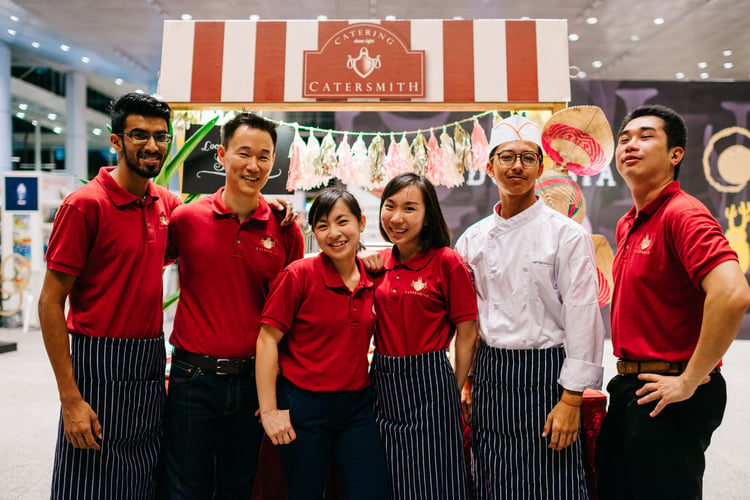 ---
Haikal, Warehouse Team
Haikal is in charge of packing up equipment for each buffet and maintaining their condition and cleanliness after each job. He might look like a smiley, young boy, but when it comes to setting up your buffet line, he's the one you can count on to get things done.

If the set-up team is ever late, you won't have to worry. Haikal will make sure everything is in order
before your guests arrive, no matter how tight the timeline.
"May the year of 2018 be full of happiness, especially when it comes to meal times! Happy new year and may your belly always be full."
Samuel, Operations Team
Sam is on the Operations team and can often seen be at your office or event space setting up, or behind the wheel of our Catersmith truck, lovingly named Lydia.

That's not all he does. Every Chinese New Year, Sam magically transforms into an amazing Lou Hei host. With just a microphone in hand, Sam can get guests on their feet and tossing their yu sheng like no other.
"2018 is the year of "Huat", abundance of wealth and food! We wish all teams fair winds and calm seas in the coming year!"
Zakir, Operations Manager
Zakir, or Zak for short, manages the Operations team and so much more.

With years of experience in restaurants and hotels under his belt, Zak has developed a knack for customer service — he's as smooth as they come. He's also quick on his feet and always keeps his cool, making him the resident troubleshooter when anything ever goes wrong on-site.
"May your Team have a blissful 2018, filled with adventures, joy and loads of food! Remember, always share the year's highs and lows with your amazing team members."
Stephanie, Customer Service
Stephanie's is that sweet voice you hear when you call the Catersmith hotline. Dedicated to making your catering dreams come through, you can rely on her to convey your special requests and custom instructions to the rest of the team.
"I hope that 2018 will be a great and fruitful year for your team. To many more awesome meals together!"
Chris, Co-founder
Co-founder Christ expertly directs the Operations team through each event armed only with his 'command presence' and a meticulously thought-out battle plan.
To say Chris goes above and beyond would be an understatement — he even makes the team work out so they can lift food for a thousand people with ease!
"May 2018 be the start of another amazing adventure with your team. Whether it's work, fun or food, I hope 2018 will bring you lots of meaningful experiences."
Irwin, Co-founder
Irwin puts all the pieces together. With his eye for detail and desire for perfection, he motivates and pushes the team to achieve smoother set-ups, put together more organised and presentable buffet lines and create unforgettable experiences for guests.
"I wish your team an amazing fun-filled 2018 where you continue to grow and bond over a delicious and hearty meal…or two…or three...!"
Janice, Co-founder
Love how simple and easy it is to place a catering order via Catersmith? You can thank Janice.

She directs the sales and marketing team with the belief that each customer is a friend. As a friend, your satisfaction is the top priority, so Janice will always ensure that each ordering process is a breeze for you.
"In 2018, I hope that your team becomes closer and happier. I hope that everyone continues to discover the joys of eating together in the year to come!"
---
From us to you, Happy New Year! We hope to continue catering the best food in Singapore and creating spectacular events in 2018 and beyond.